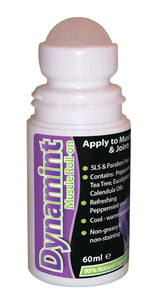 Dynamint
Dynamint Muscle Roll On
Regular price
£8.25
£0.00
Unit price
per
Tax included.
Shipping
calculated at checkout.
Dynamint™ has a refreshing peppermint smell and is non-greasy upon application… it's for use both pre and post sporting activity or by anyone with general aches and pains. Upon application Dynamint provides a gentle cooling sensation following by a feeling of 'applied heat'.
Dynamint's special formula ensures a unique penetrative performance, allowing it to get to work almost immediately: If you're looking for a natural solution then Dynamint™ is a great option. It contains Peppermint oil, Eucalyptus oil, Tea Tree oil and Calendula in a gentle cream base and contains no parabens, drugs or chemicals.

As a natural muscle relaxant, it provides soothing, cool-warm therapy to help alleviate discomfort fast - Dynamint™ is widely used by many professional sports people and therapists.
Suitable for
all ages,
it gets to work on muscles - exactly where it's needed - almost immediately.
Simply apply a small amount and you'll feel it working on your muscles and joints. Dynamint
™
doesn't leave behind any sticky or unpleasant residues or stain your clothes.
---
Share this Product
---